Mobil wanted to introduce a new campaign designed to encourage employees to submit ideas for improving performance and saving costs. The campaign required a logo and related branding to launch the initative.

The Logo
The MoneySavers logo is meant to be whimsical and friendly. The overall design of the logo works within the Mobil style guide, using a geometric look and strong symbols to establish the look and feel. Mr. MoneySaver was designed to be applied to mugs, hats and other signage.

Application
For the main poster application Mr. MoneySaver was positioned in a bold, graphic manner to emphasis the strength of the logo, and not detract from the messaging. Corporate colors were used, as required. The yellow bulb color added to the concept of "bright ideas" and serves as a visual exclamation point. This design won the Gold Medal at the 1992 Washington DC Art Director's Club Real Show.





©2018 Matthew Fetchko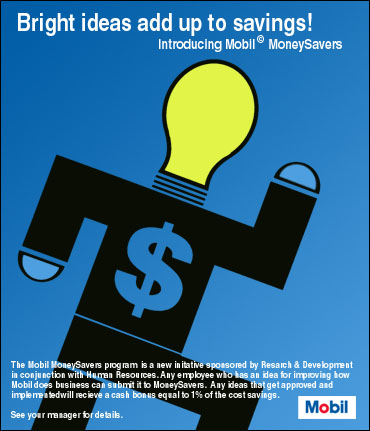 The Mobil MoneySavers poster,
Gold Medal, Branding, Art Director's Real Show, Washington, DC.