The American Society of Interior Designers hold an annual meeting every summer. This event is the focal point of the organizations programming year. The presentations are elaborate with extensive visual support. Each year a different theme is chosen, and all presentations graphics must embody the theme.

The Business of Design
The 1994 meeting had a theme of "business". The overall idea was to tie the interior design industry to the larger world of current business trends and developments. Key among these trends was the idea that ASID embraced technology, in all forms.

The overall designs used bright primary colors and images such as CDs and computer disks as an icon vocabulary. Sans-serif typography provide a contemporary feel for text and copy.

Southwestern Style
The annual meeting took place in San Antonio, Texas and the secondary theme was "southwest" in flavor. Graphics and visuals for all social events embraced a modern, southwest style. Purple, turquoise, silver and gray were among the colors used. Icons and decorative elements picked up on traditional southwest symbols such as God's eyes, pictographs, and conchos.

Formal Presentation
The most prestigious event of the annual meeting is the Award of Excellence, given out in numerous categories. This evening event is formal, and for interior designers it is the most prestigious award in the industry. The supporting visuals are required to be elegant and engaging, but also to complement the photographs of the award-winning designs. For the 1994 event, marble textures, jewel colors and metallic finishes provided a fitting framing device. Geometric forms and serif and sans-serif typefaces provided elements that tied the look to the daytime graphics.





©2018 Matthew Fetchko

"The Business of Design" key visual with bright colors and technology graphics.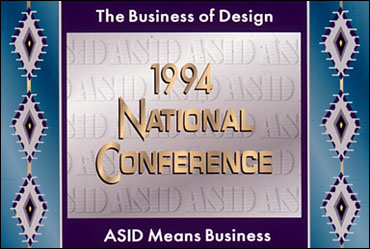 The Southwestern style inspired design motif.



Award of Excellence visual, with formal design touches.